Important! Please check our Size Guide below before ordering.
Our new and improved Hemp Leggings are here! With flatlock stitching to reinforce the seams and an added gusset, these will last even longer with regular wear & use. The hemp fabric adds antibacterial and antimicrobial properties, so your leggings won't hold onto odors like 100% cotton.  
**Please note: our leggings run 1-2 sizes smaller than our yoga shorts/bike shorts. Our new and improved Hemp Leggings also fit differently than our previous style. Please check the size chart below before ordering.
Model Size
The model is wearing size S.
Christa's measurements are: Height 5'5" | Bust 34" | Waist 27" | Hip 37"
Garment Measurements
**Please note: our leggings run 1-2 sizes smaller than our yoga shorts/bike shorts. Our new and improved Hemp Leggings also fit differently than our previous style. Please check the size chart below before ordering.


XS: Hip 30" (stretches to 39") / Waist 18.5" (stretches to 25")
S: Hip 32" (stretches to 41") / Waist 20" (stretches to 26.5")
M: Hip 34" (stretches to 43") / Waist 23" (stretches to 29.5")
L: Hip 36" (stretches to 45") / Waist 24" (stretches to 30.5")
XL: Hip 38" (stretches to 46.5") / Waist 27" (stretches to 33.5")
XXL: Hip 39.5" (stretches to 48.5") / Waist 28" (stretches to 34.5")
Not Sure What Size?
Please contact us or check out our size guide
Please allow 3-5 weeks for us to make your garment. All Conscious Clothing items are made with love at our studio in Belmont, Michigan USA.
Not your style? Exchange for a new item or store credit within 10 days of receiving your shipment. At this time, we do not provide refunds to the original payment method.
53% Hemp / 43% Organic Cotton / 4% Lycra
Machine wash with cold water and lay flat to dry.
made with intention
Sustainably & ethically made in America.
We create sustainable clothing using eco-friendly materials and low-impact dyes. We care about the process as much as the end result and hope you love your Conscious Clothing piece as much as we loved making it.

Exchanges only / see our FAQ for our store policies.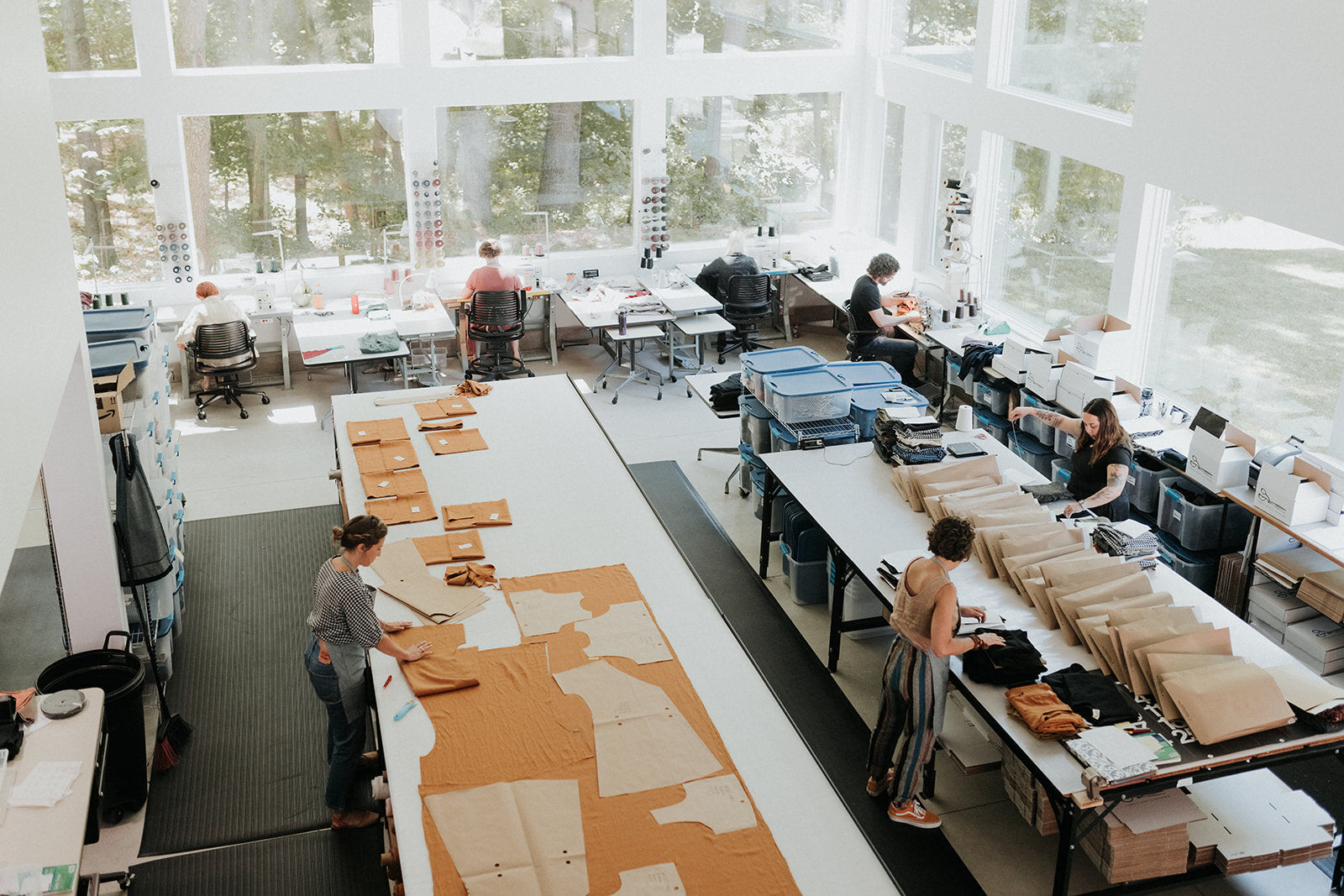 Very Nice but a Few Things
These leggings are wonderful. Amazing stretch, color, texture and feel. The only downside is they get stretched out on the waist super quick (a few hours after wearing) and then I constantly have to lift them up. If I went a size down they wouldn't fit. Also one leg on the pants is longer than the other so thats been feeling weird. Other than those two little minor things I am in love with them!
These are incredible, a whole new kind of legging experience. I can't wear my synthetic leggings anymore after purchasing these, the difference it makes on my body (the way it looks, feels) is just so clearly superior. I also received excellent customer service when I reached out for some help.
The previous iteration of the hemp leggings was my holy grail legging and the only pair I've ever been able to find that was long enough AND organic. I saved and saved for a second pair, but couldn't swing it until now, after the changes to them. I wore an XS in the old sizing, I got a M as per the size chart.
Unfortunately they are very different now and fit me significantly less well, but luckily for the rest of you I am oddly sized (6' tall, 27" waist 37" hip 36" inseam) so I'm probably the odd woman out here. Also, the addition of the gusset has made these somewhat less flattering, although comfier.
On the other hand, they're still very well-made, the fabric is excellent, and I don't want to waste more resource by returning them, so I will keep them and wear them under dresses and skirts. I will be babying the heck out of my pair of the old style so they last.
I love my hemp leggings! I usually need a L or even an XL for my curvy self, but per the size chart I am a M. I was apprehensive, but the fit is perfect! I am 5'4" when fully hydrated so they gather at my ankle, but it feels comfortable and cozy. They have not stretched out and the high waist is so supportive of my belly curve.
I love this alternative to polyester junk and will definitely be buying more in the future.
Thank you Concious Clothing, for doing what you do and making us feel great while you do it.
Love these leggings so much. There are so many polyester/other synthetic fiber leggings out there. These are a wonderful soft and stretchy hemp/cotton (with a hint of lycra). High waisted, nice thick waistband. Love these for all seasons in the upper Midwest. Small fits my 5' 7" medium/small build well.