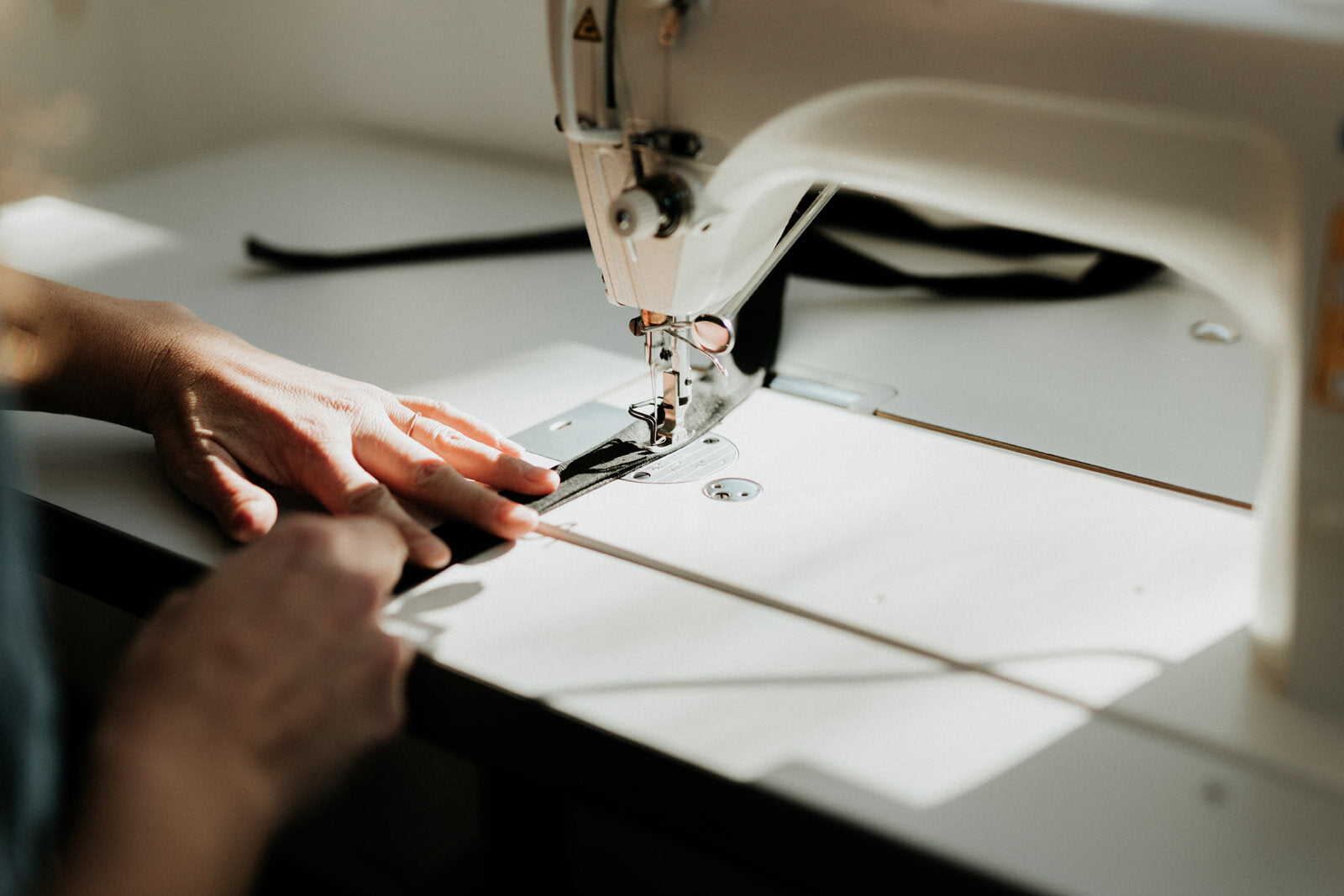 What is Sustainable fashion?
What do we mean when we say we make sustainable fashion? Let's face it, these days, even the word 'sustainable' is overused. The clothing industry and fast fashion, in particular, are guilty of greenwashing, misleading consumers to believe that their products are sustainable when it is not. 
Our goal is to employ sustainable practices at every level of our business. We do this in many ways - from sourcing sustainable fabrics and repurposing zero-waste fabric scraps to using recyclable packaging and offsetting our carbon emissions. Take a peek at our laundry list of sustainable practices below.
We design our garments with durability in mind. When you buy from us, you're investing in a long-term piece that will be worn for years to come, reducing your own carbon footprint. 
We pre-wash and dry all of our fabrics to eliminate shrinkage, this process helps maintain the clothes, ensuring a proper fit for you.
All of our fabrics are plant-based and biodegradable, which means many of our pieces can be composted after their lifecycle. 
We strategically cut our garments (Tetris-style!) to reduce fabric waste as much as possible. 
Our remaining fabric scraps are repurposed and sold in our zero-waste fabric scrap Maker's Boxes or are reused around the studio and in our homes as napkins, washcloths, or other crafts (instead of being discarded). 
All screen printing is done in-house with water-based, non-toxic ink. We set the ink using heat instead of chemicals. 
We use metal snaps and zippers rather than plastic materials such as buttons for our garments. Metals have a higher recycling rate than plastic, and metal can be recycled infinitely. 
The majority of production occurs in-house, which reduces the cost of shipping and transportation, and our emissions. 
All of our packaging materials are recyclable, including paper bags, boxes, and tape. We encourage our customers to recycle or compost this material after their package arrives. Customers can also opt out of receiving promotional materials (AKA additional paper products that can be saved for the next order). 
For every order placed, we plant a tree! We've partnered with Ecodrive to offset our carbon footprint. Each tree planted will remove 680 pounds of carbon dioxide in its lifetime.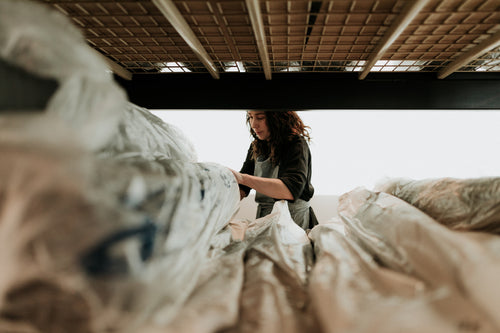 In 2018 11,300 tons of textiles ended up in landfills. Yikes. We want to reduce fabric pollution, so we use sustainable fabrics instead of synthetic ones. 
We use plant-based, biodegradable fabrics that are comfortable and eco-friendly. We always ethically source our materials from reputable, fair trade manufacturers. 
Linen - Our high-quality linens are milled in Europe and Canada. Made from the fiber of the flax plant, linen is breathable and stylish, and it doesn't pill or create lint. We love it for its low carbon footprint and being biodegradable. 
Organic Cotton Denim - 100 percent organic cotton denim made without polyester or elastic, sourced in Europe. Organic cotton is grown without GMOs, pesticides, or other environmental pollutants.
Hemp Jersey - Our hemp jersey knit has the durability of hemp and the softness of cotton. It's 55 percent hemp, 45 percent cotton, and 100 percent plastic-free, sourced from Asia. More than half of the nutrients used when growing hemp return to the soil and help feed the next crop.
Hemp Fleece - We use fair trade, certified organic cotton hemp fleece that is 55 percent hemp and 45 percent organic cotton. The raw hemp and organic cotton is sourced from Asia. One side is knit, and the other is soft and fluffy, making it the perfect winter fabric. Learn more about why we love it in our hemp fleece fabric spotlight.
Stretch Hemp - A medium-weight, knit fabric made up of 53 percent hemp, 43 percent organic cotton, and four percent lycra. Used primarily in our Yoga Collection, the lycra helps the material retain its shape, making it the perfect choice for athletic apparel. Traditional athletic apparel is often made with 100 percent polyester, which sheds hundreds of thousands of micro-plastic fibers when washed. Stretch hemp is a more eco-friendly, sustainable stretch fabric alternative that still works as hard as you do!
Organic Cotton French Terry - Our Lounge line uses natural, organic cotton french terry fabric, milled, dyed, and laundered in the USA. The fabric and the colors it comes in are beyond dreamy, perfect for lounging around the house but cute enough to pop out for a quick errand in. Professionally laundered for extra softness, the loops help wick moisture from the skin, making it perfect for all seasons. Because organic cotton is a natural fiber, it won't pill like other fabrics, which improves longevity.