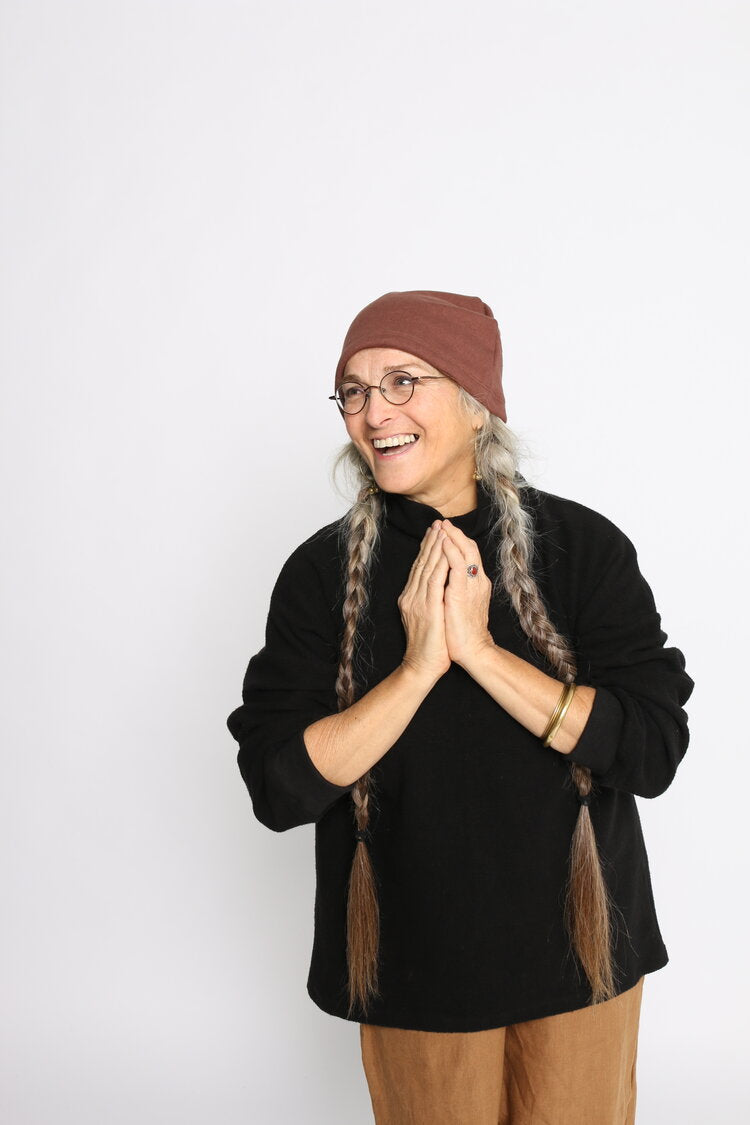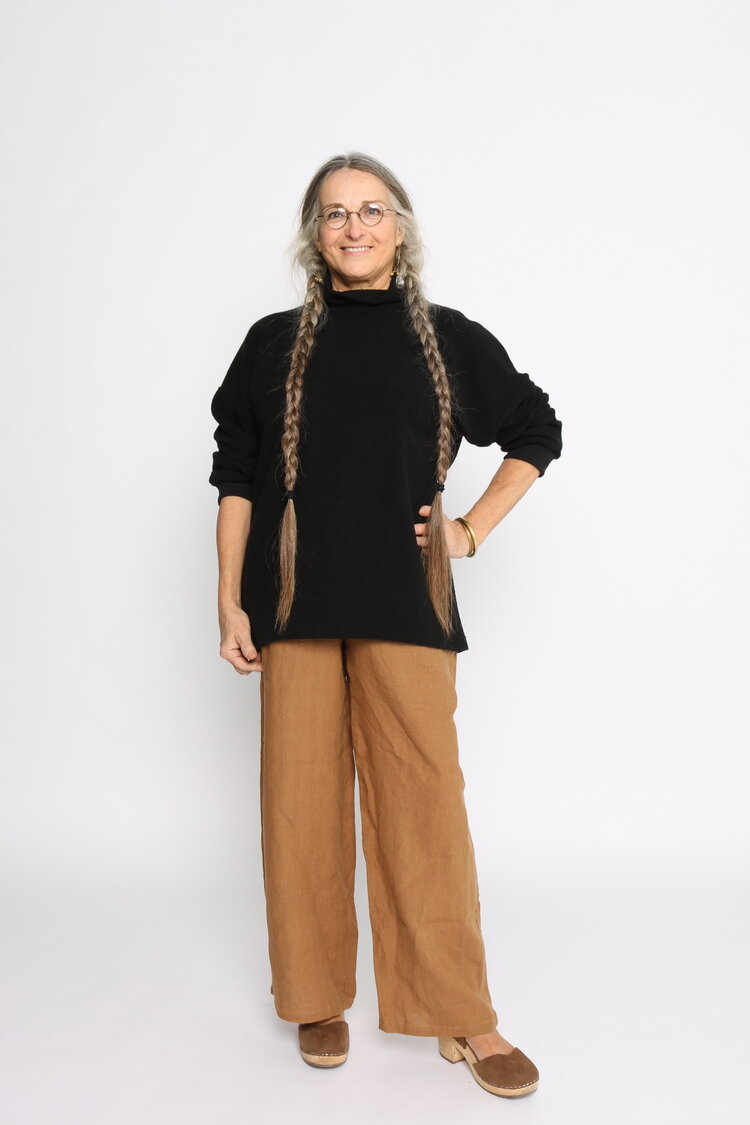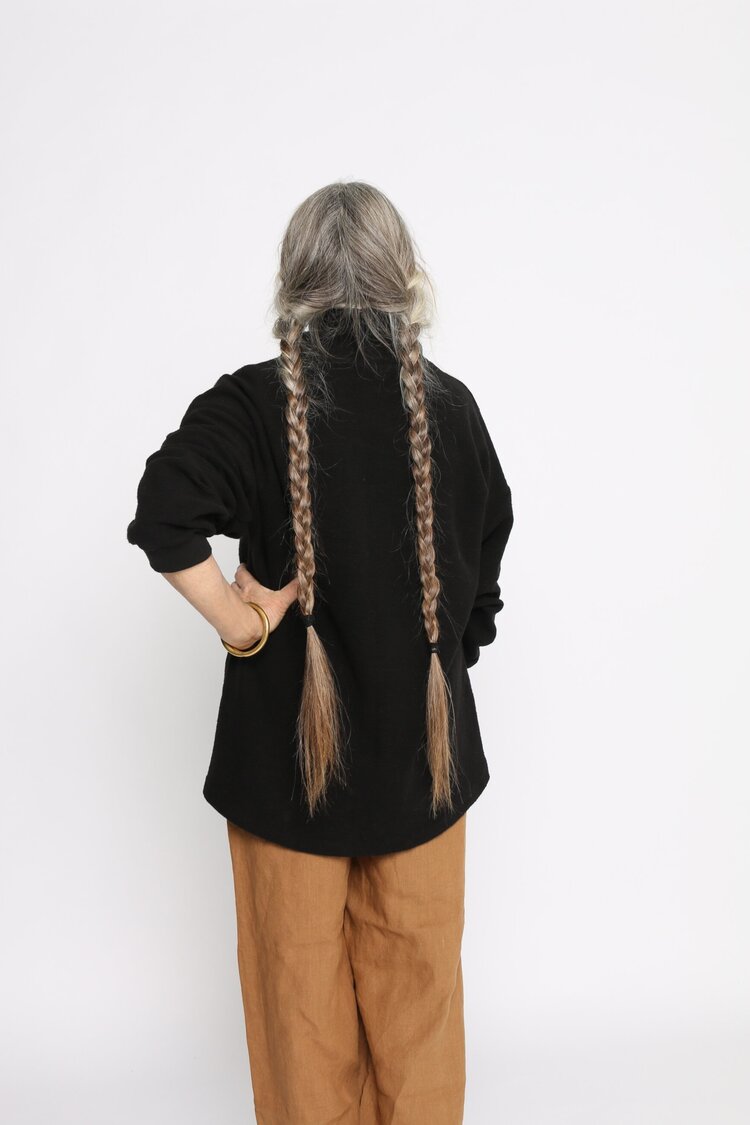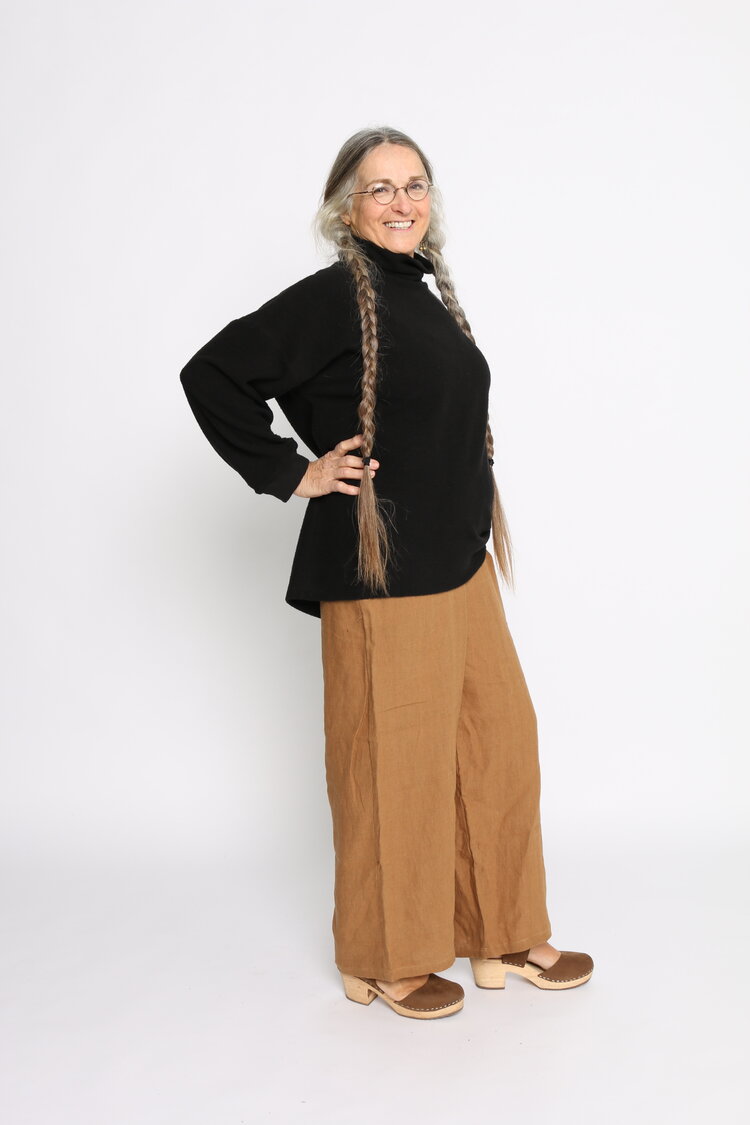 Important! Please check our Size Guide below before ordering.
The Traveler Tunic was designed with different bodies in mind. The bottom hem is curved, featuring a longer back panel to keep the torso cozy and completely covered. Sewn with the fuzzy side out, we love how the texture looks and feels. 55/45 hemp and organic cotton knit. Free of polyester, plastic and synthetic fibers.
Model Size
The model is wearing size M.
Deb's measurements are: Height 5'4" | Bust 40" | Waist 32" | Hip 41"
Garment Measurements
All sizes have 28" Front Length and 31" Back Length.

XSmall: Bust 43" / Hip 43" / Bicep 17"
Small: Bust 45" / Hip 45" / Bicep 17.5"
Medium: Bust 47" / Hip 47"/ Bicep 18"
Large: Bust 50" / Hip 50" / Bicep 18.5"
XLarge: Bust 53" / Hip 53" / Bicep 19"
XXLarge: Bust 56" / Hip 56" / Bicep 19.5"
Not Sure What Size?
Please contact us or check out our size guide
Please allow 3-5 weeks for us to make your garment. All Conscious Clothing items are made with love at our studio in Belmont, Michigan USA.
Not your style? Exchange for a new item or store credit within 10 days of receiving your shipment. At this time, we do not provide refunds to the original payment method.
55% Hemp / 45% Organic Cotton

Machine wash with cold water and lay flat to dry.
made with intention
Sustainably & ethically made in America.
We create sustainable clothing using eco-friendly materials and low-impact dyes. We care about the process as much as the end result and hope you love your Conscious Clothing piece as much as we loved making it.

Exchanges only / see our FAQ for our store policies.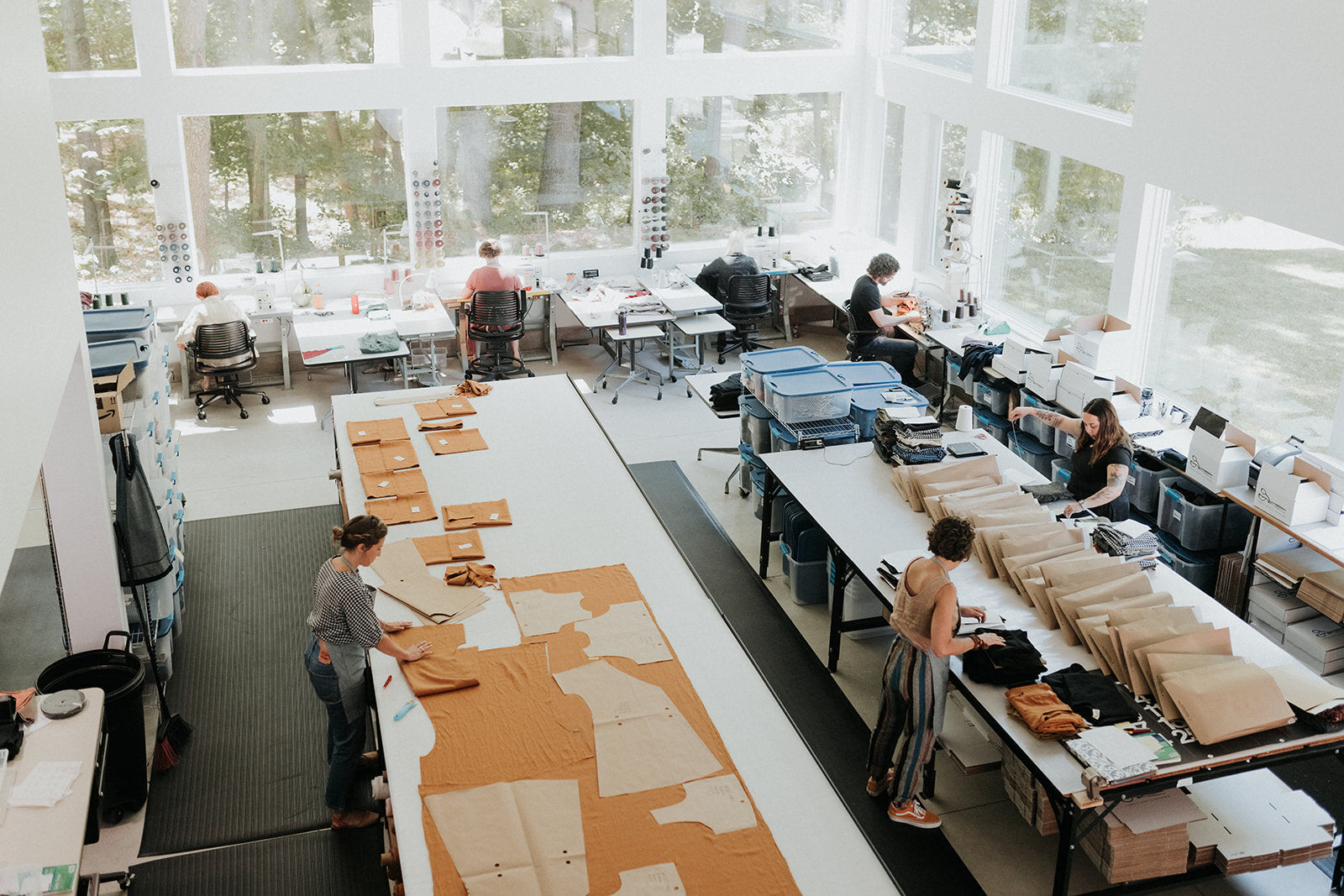 Cozy, roomy top
I love the Traveler Tunic; I'm wearing it right now! The Conscious staff was hugely helpful in getting the right size for my XXL dimensions. (I used a credit for a returned item that didn't fit, and the staff were great at assisting me in finding something different. With respect to the item that didn't work for me, I would suggest garments whose measurements somehow indicate how much stretch there is, and showing models who are seated and not just standing--because I spend a lot of time sitting down, and I want my clothes to fit in that position). I'd also encourage more models in larger bodies who are also taller than average. (Many of the female models are much shorter than me.) Thank you for the great clothes and all your kind attention to making and shipping them!
This is one of the one pieces that I have to resist buying one in every color. So glad I splurged last year. Marine is my soul color but black is a staple… This garment gets worn weekly through the winter, usually multiple times and then again as soon as it's clean again. Super cozy fleece. (Think inside out sweatshirt… but it works.) Nice oversized fit. But I've been able to dress it up for work on chilly days with slacks or jeans and still look put together so it's definitely versatile.
My sweetie got me this gorgeous garment as a gift for the holidays! I love it so much! Perfectly oversized for cozy days with leggings and boots 🌟
Absolutely love this tunic! I am 5'3 and typical US size 8 and got the Medium. Super cozy layer and flattering. Good amount of room to layer a baselayer underneath it. Love wearing it with leggings!
This is my go-to layer for winter walks, fall bonfires, slumber parties and working from home. It's warm, flattering, versatile & the most-comfy thing I own! I am 5'8"/ 165lbs /medium build, & the size M was perfect for me; a loose fit while still hitting my shoulders just right. It looks really cute when you roll the sleeve once or twice, and when I do that I can go all day without fussing with them while I work - a typical attribute to functional long sleeved apparel, but not the case here!