Important! Please check our Size Guide below before ordering.
Our Saturday Tee is just what you need: pairs great with your favorite bottoms and effortlessly layers under overalls. Made from long-lasting Hemp + Organic Cotton Jersey.
Model Size
The model is wearing size M.
Deb's measurements are: Height 5'4" | Bust 40" | Waist 32" | Hip 41"
Garment Measurements
XSmall: Bust 36" / Hem 37" / Length 20.5"
Small: Bust 38" / Hem 39" / Length 20.5"
Medium: Bust 40" / Hem 41" / Length 21"
Large: Bust 43" / Hem 44" / Length 21"
XLarge : Bust 46" / Hem 47" / Length 21.5"
XXLarge: Bust 49" / Hem 50" / Length 22.5"
3X: Bust 52" / Hem 53" / Length 24.5"
4X: Bust 55" / Hem 56" / Length 24.5"
Not Sure What Size?
Please contact us or check out our size guide
Please allow 3-5 weeks for us to make your garment. All Conscious Clothing items are made with love at our studio in Belmont, Michigan USA.
Not your style? Exchange for a new item or store credit within 10 days of receiving your shipment. At this time, we do not provide refunds to the original payment method.
55% Hemp / 45% Organic Cotton jersey
Machine wash with cold water and lay flat to dry.
made with intention
Sustainably & ethically made in America.
We create sustainable clothing using eco-friendly materials and low-impact dyes. We care about the process as much as the end result and hope you love your Conscious Clothing piece as much as we loved making it.

Exchanges only / see our FAQ for our store policies.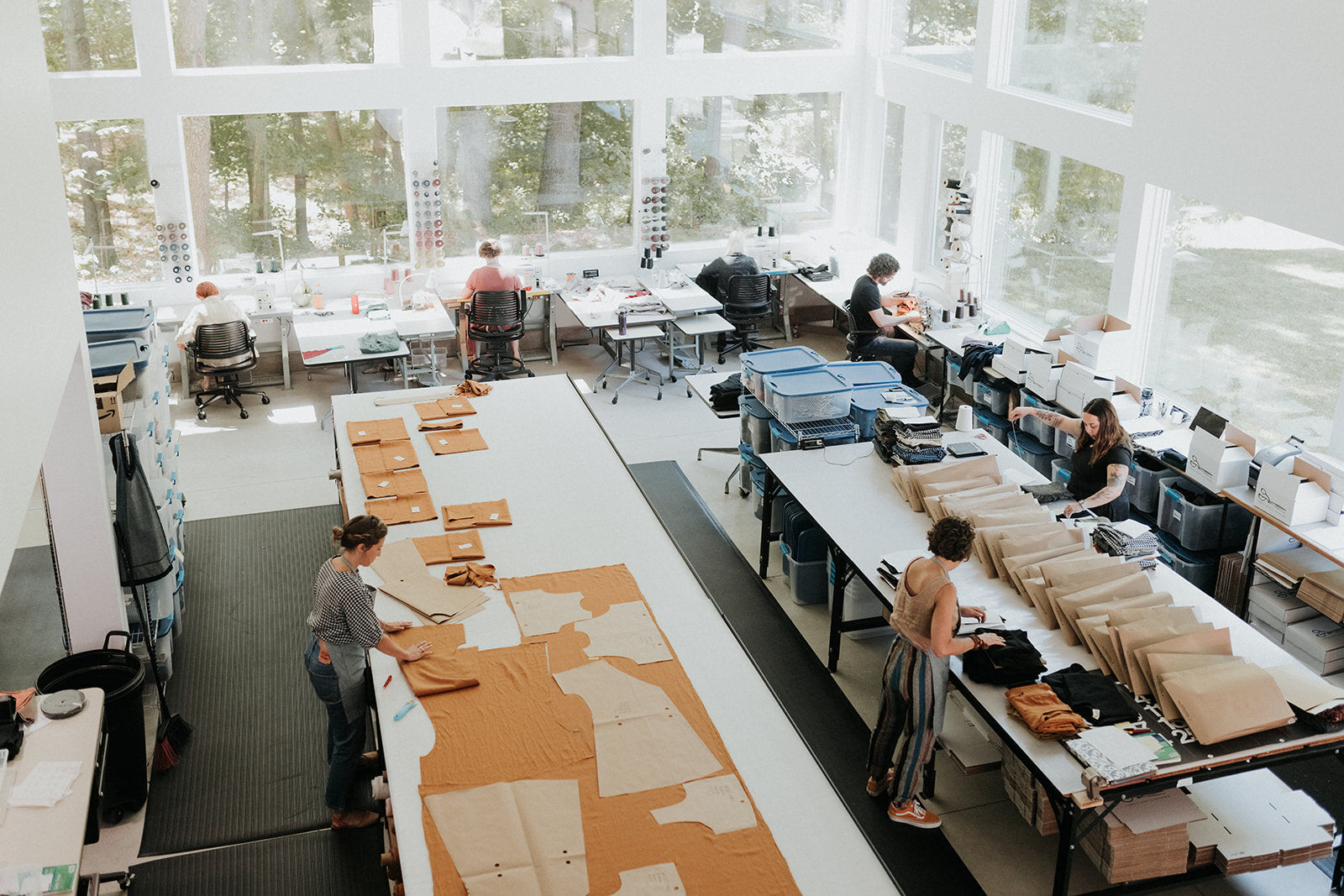 Another wonderful purchase!
This is the second saturday tee I've purchased. It's another win! I love the fabric, construction, color, and design. Literally the best tee shirts I own are from conscious clothing. 10/10 would purchase again.
I have the tee in candy stripe, which is versatile and a nice variation in my ridiculous collection of striped clothing. The fabric is gorgeous and I choose this tee regularly. I'm realizing, however, that the boxy cut isn't for me. I like to tuck my t-shirts, and this one's a little too short to stay tucked. Also, the box cut is very simple and lacks nuance (especially for the price). For sturdier fabrics, I like that the boxy shape remains even when on the body, but for the drape of the t-shirt I want a closer and longer fit.
I absolutely love the Saturday tee! The moss green color is gorgeous and goes with everything. My arms are
on the larger side and I usually have a hard time finding comfortable and flattering sleeves. This tee is the best of all worlds.
I am OBSESSED with this top. I have it in 4 colors (stripe, black, moss, and russet)! It's super comfortable AND very flattering. I love the fit and length. I wear a size small. I am 5'6, 135lbs, with a pear shape.
This is one of my favorite tops that I own, and definitely my favorite hemp top that I own (I have a few other hemp tops)! It is super cute on and it is the perfect length (not too short, not too long). I love the material so much, super soft-but also not to thin, and slightly textured. I have the stripe color, and hope to purchase a few more colors as well! Definitely worth it!