Important! Please check our Size Guide below before ordering.
The Market Overalls have a slightly tapered leg, front pockets, square back pockets, and brass snaps. It is gathered at the low back to offer a little more "form" for your lovely curves. Great for maternity too! 

Model Size
The model is wearing size S.
Courtney's measurements are: Height 5'8" | Bust 33.5" | Waist 26" | Hip 37.5"
Garment Measurements
XSmall : Hip 38.5" / Inseam 31"
Small : Hip 40.5" / Inseam 31"
Medium : Hip 42.5" / Inseam 31"
Large : Hip 45.5" / Inseam 31"
XLarge : Hip 48.5" / Inseam 31"
XXLarge : Hip 51.5" / Inseam 31"
3X : Waist Opening 55" / Hip 56" / Inseam 31"
4X : Waist Opening 56" / Hip 60" / Inseam 31"
Not Sure What Size?
Please contact us or check out our size guide
Please allow 3-5 weeks for us to make your garment. All Conscious Clothing items are made with love at our studio in Belmont, Michigan USA.
Not your style? Exchange for a new item or store credit within 10 days of receiving your shipment. At this time, we do not provide refunds to the original payment method.
Natural Denim: 100% Organic Cotton Canvas
Machine wash with cold water and lay flat to dry.
made with intention
Sustainably & ethically made in America.
We create sustainable clothing using eco-friendly materials and low-impact dyes. We care about the process as much as the end result and hope you love your Conscious Clothing piece as much as we loved making it.

Exchanges only / see our FAQ for our store policies.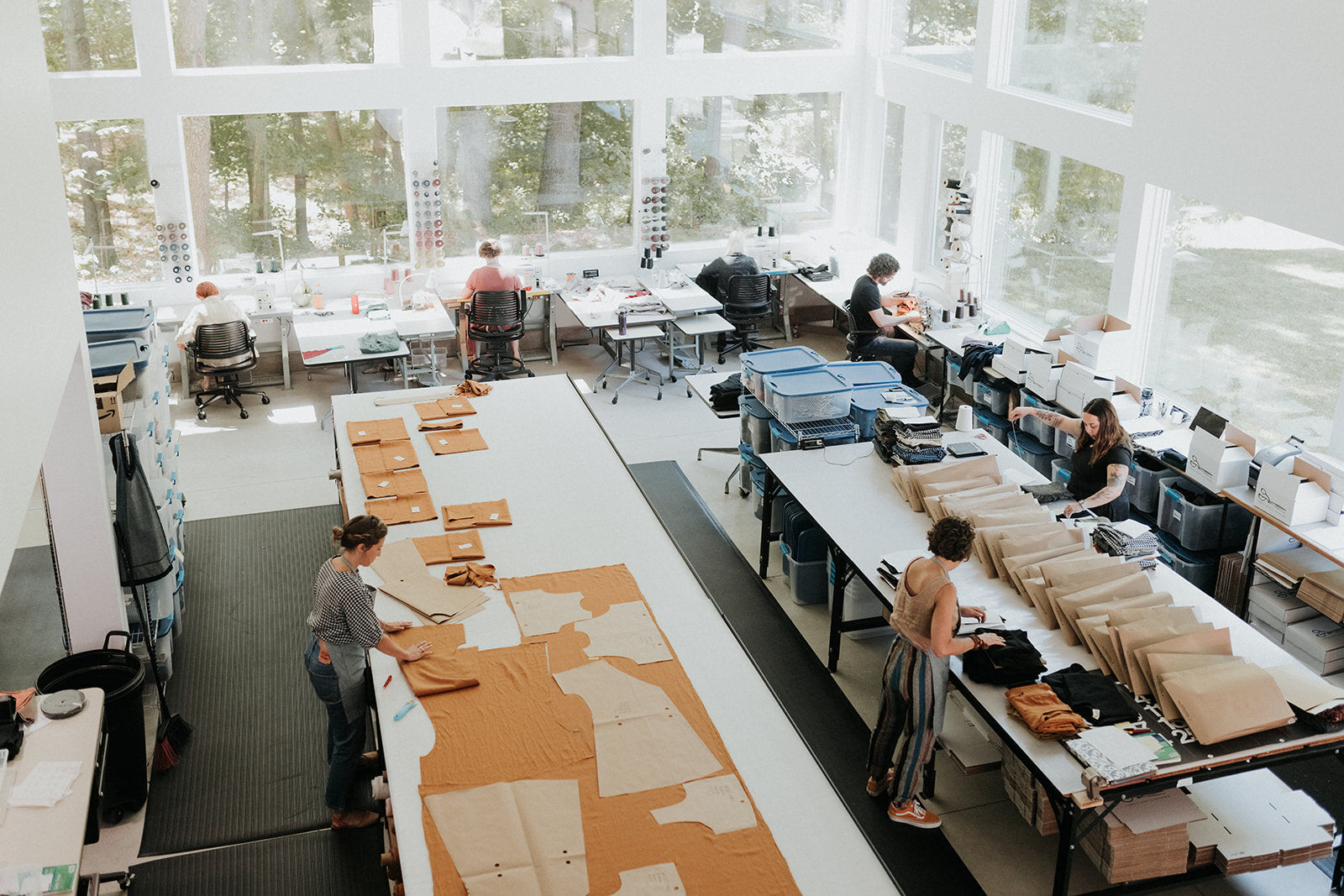 My market overalls are pretty great. I read the reviews and knew they would need to be altered to fit my 5'3" 125lb frame, but I went with the XS and I was glad I did. These have become a uniform for me. I slip them over my long underwear set and I am cozy and comfortable for work. I also adore all the pockets!!!
As someone who lives in a remote town north of 60, I rely on online sales for almost everything. I really appreciate it when people leave comments with sizing details so I can gauge fit. So, for the next lovely human who chooses to invest in sustainable clothing, I am 5'7" and 180lbs. 40-35-45 and love love love my XL overalls. I was worried that they would be short in the body as I have a long torso and they were just on the edge of that at the lengthened setting worn cross-backed but loosened up within a wear and are now PERFECT. For any other Canadian shoppers, I bought two pieces online from Zinnia Textiles and now that I know my fit (large if it's free fitting in the hip) I won't hesitate from buying directly through CC.
Realizing that I could cross the straps was a game-changer for me! When I received my beautiful overalls, I was so in love, but even on the tightest setting, I couldn't get the straps to stay up. Silly me! Crossing the straps was the perfect solution and I'm so excited to have found a fit! I love this piece so much because it's comfy and simple, but when I wear it while working from home it makes me feel put together, earthy, and fabulous in my own skin. Right now I'm layering it with a 3/4 sleeve bamboo top and a hand-knit shawl and feeling magical!
I'm 5'9" and around 180lbs and the large is a flattering fit and comfortable with the elastic waistband! Thank you, Conscious Clothing!
So in love with these overalls. The elastic waist is perfect us girls with wider hips and small waist. I'm 5'7" and the inseam is perfect! Thanks so much! :)
Love to hear that these fit you just right! Thanks for the review, Nikki!
I just got these in an xs. I wish the leg was a bit thinner and shorter. I'm 5'2" (110 lbs) so the inseam is way too long for me. Even if I fold them up. In the photo I have one leg long and the other folded up 4 times. The top half fits beautifully! I crossed the straps in the back to help make them a little shorter. I'll do some alterations to get them to my liking.
Thanks Michelle for your feedback on these custom overalls.
We are happy that you are able to to tailor the length yourself and that the rest fit you so well.
We are willing to make any adjustments in our studio, or of course you are welcome to support your local tailor.