Who: Erica Lang + Kelly McPhee ; @woosahoutfitters + @outsidecoffeeco
What: Woodblock Prints Woosah Outfitters + Coffee Outside Coffee Co.
Where: 738 Wealthy St .SE / Grand Rapids, MI 49503
Our friends Erica & Kelly are partners, artists, and entrepreneurs that have been an inspiration to us for years- we have seen them grow and flourish in the Grand Rapids community. It seemed only fitting to feature them for the Artist Series wearing some of our favorites, including pieces from the EveryBODY line. With abundant creativity flowing from their relationship and their business ventures- we are honored to share our conversation with them and the ways they are making a difference in the community and the planet. Their travels and their brand identity highlight their dedication to uplift communities, to protect natural resources, and to get out and enjoy the natural wonders!
Read their story below_
1) Tell us a bit of your story_ how did you get to where you are today?
Erica: I never know where to start, it feels like so much as happened in such a short amount of time. To make a very long story short, I transferred to KCAD when I was a junior and pursued my passion in printmaking. That's what brought me to Grand Rapids in the first place, turns out community is why I stayed.
A little more background_ during my time at KCAD, I started making art to relax and feel grounded and would sign this body of work, "Woosah". It's ironic because I'd only make this art at home and wouldn't mention it at art school. It was my own little secret joy. Once I learned how to carve woodcuts though, my worlds collided. I had discovered the medium I had been searching for without knowing it. It was like I had been carving woodcuts in my head but painting or drawing never translated those images. After I inked my first block and pulled a print it was a big moment for me. I knew I was where I was supposed to be. 
Fast forward to graduation, I started printing from a community printshop called Dinderbeck and after a short time there, something like 6 months, I decided I wanted to have my own storefront where folks could come shop my prints and apparel while I carved and printed. I signed a lease at 131 S. Division and slapped some vinyl on the windows, Woosah Outfitters suddenly had a storefront. The most beautiful community of nature and art loving folks formed around our space. We'd throw parties with free beer and soup in the winter and come together to celebrate simple joys. 
Soon enough I realized my true passion, community. Creating a space for folks to connect in. I started dreaming up a second store front that would also have a coffee shop connected to it. That's when Kelly came into the picture. She had just moved here from Chicago. 
Kelly: I grew up in a very small town then went to Western for business school and studied Finance (Real Estate) and Spanish. I graduated college during the recession so I moved out of state pretty quickly to San Diego even though I had never been there before. I took an opportunity to move there with a friend. I spent most of my time working in hospitality in San Diego. In order to move up in that world, I had to take the Introductory wine class through the Court of Master Sommeliers. I got hooked on studying wine immediately, so I began studying for my Level II exam right away. During this time, I moved up to LA for work and continued to study for my Level II. After passing that exam, I got an opportunity in Chicago, so I packed up and moved back to the Midwest. In Chicago, I worked as a Sommelier and Beverage Coordinator at a fine dining restaurant. After a couple years of that, I got burned out and decided to move back to Michigan so I could spend more time with my family.
Within six months of moving back to Michigan, I reconnected with Erica after almost 10 years of being in the same friend group. Not even a year later, we decided to work together on growing Woosah and starting Outside Coffee. It felt a little crazy back then, but it was the best decision I could have ever made.
2) What does a typical day in the life look like for you two?
Erica: We usually wake up, grab a coffee from the truck and take Fern dog for a walk. Neither one of us have much of a routine. We live above our work so sometimes we just wake up and dive right into it all. I'm usually high energy in the morning, stoked to get into my studio and start working. My days typically consist of mostly creative work. Everything from carving woodcuts to designing signage for the garden and laying out our website.
Kelly: We usually spend the mornings slow and focus on gearing up for the day. I'm trying to create a better schedule for myself and become more organized. It's not my strong suit so lists tend to be my best friend. I do everything from payroll, budgets, receipts, HR, maintenance, AP, and I just learned how to print and cut down our digital prints :) Everyday is something different for me.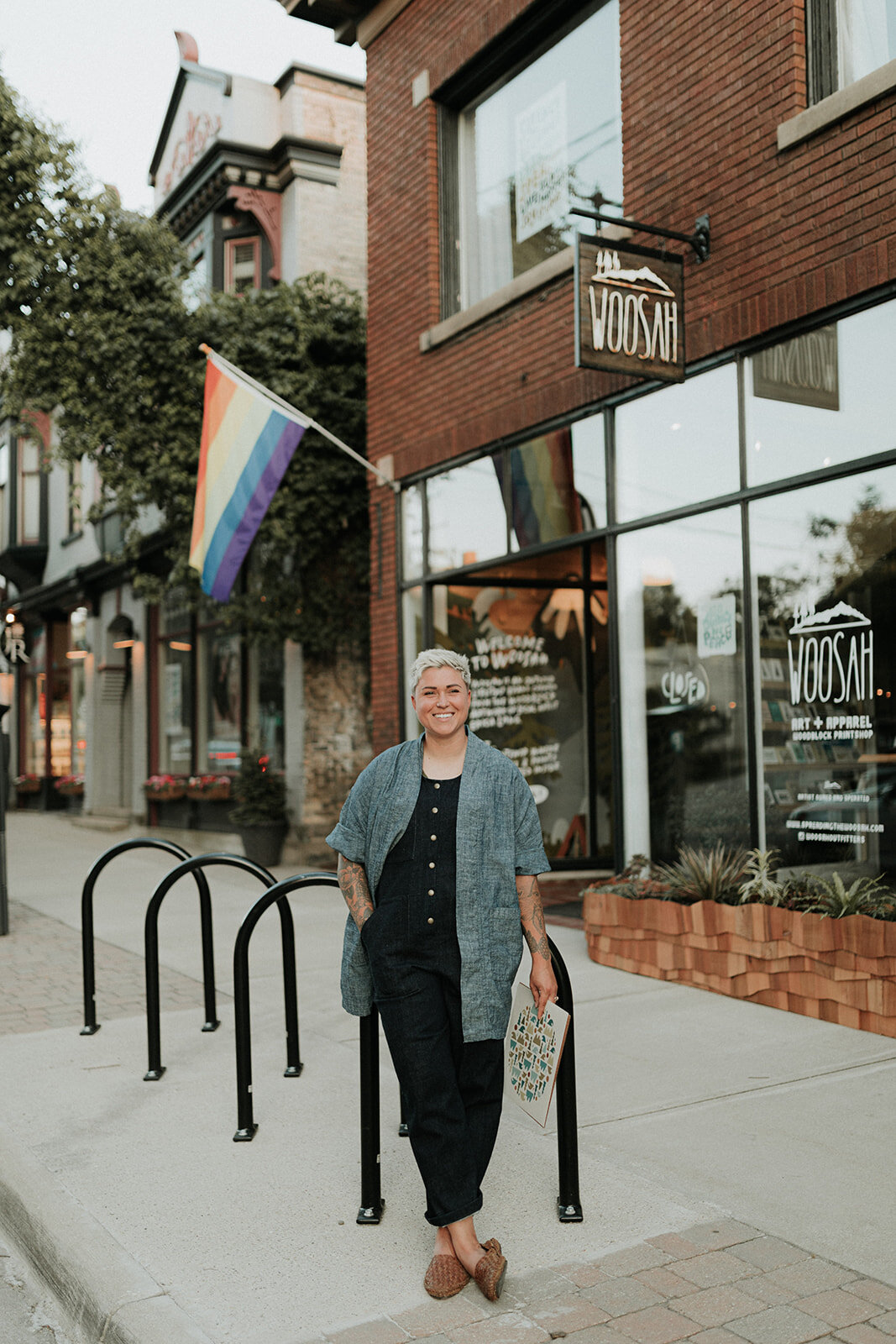 3) What do you look forward to most in doing life together?
Erica: The adventure of it all. I love waking up next to the person I love the most, building a life around what we mutually feel passionate about. I feel so lucky in that we have the same values in life, community and connection are important to us both very much.
Kelly: We are super lucky that we get to do most things in life together. I'm really looking forward to growing our family together and teaching our kids everything we know. It will be a different kind of challenge for us but I think it will help us slow down a bit and enjoy everything that surrounds us including our community and families. 
4) Tell us the most inspirational places you have been to_
Erica: I'd have to say the Pacific North West and Wyoming. PNW because the landscape out there is what my dreams are made of. Drippy, lush, pines, ferns, and shades of green you could only imagine.
Wyoming because it's truly wild. I just got back from a backpacking trip in the Tetons and Yellowstone, where I saw grizzly bears, moose, elk, fox.... it's all fresh on my mind. That kind of wilderness is pretty rare these days.
Kelly: I really fell in love with Spain back when I studied abroad in 2008. The culture there is really centered on community and family. Food and drink is a way to connect with other people. Getting out of our comfort zones and sharing a meal with someone you don't have a lot in common with can open up a different perspective and a glimpse into other people's lives. Also, siestas are a real thing and I think our culture could take some notes on how to chill and take longer vacations, haha. 
5) Tell us about your craft_ what tools do you use most? How long does it take to complete a carving?
My favorite carving tools are my Pfeil palm tools. I use my U gouge the most, I just love the weight of the line it leaves behind. It feels very graphic. I can typically crank out a smaller piece in a day, but larger blocks, like my animal series, those take weeks. 
6) We think a lot about our natural resources & how we interact with the Earth, and we know that vividly aligns with what you do, too. How do you incorporate sustainability practices into your businesses?
Definitely. We try to make as little of an impact as possible. At Outside Coffee we use all compostable and recyclable materials and compost all of our food and coffee waste with Urban Roots. At Woosah we're exploring new fabrics that have less of an impact on our environment, like hemp and bamboo. We just launched our first sustainable series that features organic cotton + bamboo materials and are excited to continue down that path. We also organize community events like neighborhood clean ups where folks come together with the same mission. We try to offset the impact we do make as well, which is why we joined 1% for the Planet. 
7) We see in your life & work that you often represent equality & justice and use your platform and art to make a difference. Will you tell us why and how you have chosen this path, and what other changes you feel compelled to make as things move forward?
I'm very passionate about creating a safe space for folks to come together and connect. Everyone belongs here, so we'll always advocate for equality and justice for all. There are so many ways to support a movement, we like to give back to local organizations that are doing the work through fundraising and throwing benefits/events. Art is my tool, it's how I speak up about the issues that matter to me and it also brings people together to have conversation.
8) We love our fellow Michiganders! Where are some of your favorite places to be outside in Michigan?
Yes especially this time of year! Our go to local spots are_ 
Fallasburg Park Park in Lowell, Seidman Park and Townsend Park in Ada, Saugatuck Dunes State Park, PJ Hoffmaster, Wilderness State Park and of course you can't go wrong with the Upper Peninsula. So much goodness up there. 
9) Aaaand we gotta know...which are your favorite pieces of Conscious Clothing?
Erica: I'm smitten with my everybody hemp hoodie. It's a staple in my wardrobe.
Kelly: I love my Traveler Tunic, it's so cozy!! 
Erica is wearing the Saturday Tee, EveryBODY Weekend Pants, Snap Smock, Comrade Work Suit, Rebel Denim Jumpsuit, EveryBODY Studio Cardigan, EveryBODY Hemp Hoodie, and Cinema Shorts.
Kelly is wearing the Revolution Dress, Riverside Scoop Top, Cinema Shorts, EveryBODY Studio Cardigan, Fleece Tank, Sunset Pants, and Homestead Jacket.