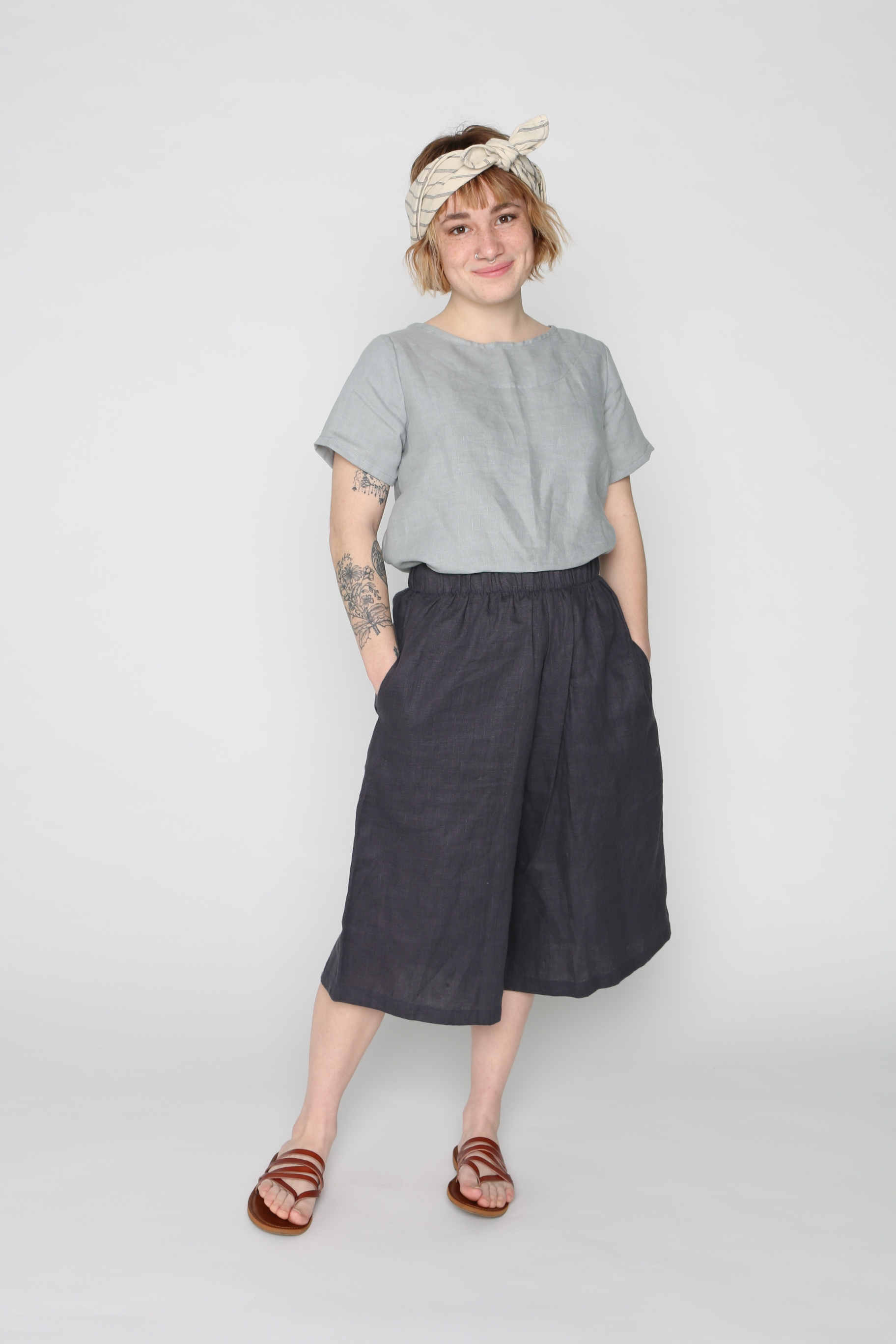 Corsica Culottes
These extra-wide linen culottes will put a spring in your step! Loose cut allows you to move and they pair well with everything from tanks to tshirts. The comfortable elastic waistband and extra large side pockets make them your go-to bottoms for spring.
Kim is 5"6 // Size Small // Wearing Ginger with the Classic Tank in Gingham.
Alyssa is 5'4" // Size Small // Wearing Ginger. Also available in Black.
Randi is 5'2" // Size XS // Wearing Stone with the Garden Tee in Sky.
Emily is 5'5" // Size XL // Wearing Ginger with the Chloe Crop in Black. (Bust 47, Waist 40, Hip 48)
GARMENT MEASUREMENTS (inches)
*waistband measurements are un-stretched

XSmall: Waistband 24 / Hip 40 / Length 27
Small: Waistband 25 / Hip 44 / Length 27
Medium: Waistband 26 / Hip 46 / Length 27
Large: Waistband 28 / Hip 48 / Length 27
XLarge: Waistband 30 / Hip 50 / Length 27
XXLarge: Waistband 32 / Hip 53 / Length 27
Not sure what your measurements are? Here's our size chart.
Each item is handmade & will ship in 2-3 weeks.
Conscious Clothing creates sustainable handmade clothing, using eco friendly and low impact materials.
If you would like your garment to be altered or customized (ie. longer or shorter length, add pockets, special size) please select your size and the option "custom" from the dropdown color menu. Leave a note with changes when prompted. The cost for alterations is $20.