A more fitted look to wear under overalls and jumpsuits or a simple piece to layer with jeans and a cardigan. We love how the texture looks and feels with the fuzzy side out. Featuring cuffs on the sleeves and the bottom hem, and raglan-style pays homage to the vintage sweatshirts. Free of polyester, plastic, and synthetic fibers. Go Team!
*Important! Before ordering, please scroll down and review our size guide. Our items are made-to-order and have unique sizing that may differ from the size you normally wear.
Hand wash cold and lay flat to dry.
55% Hemp / 45% Organic Cotton
Please allow 3-6 weeks for us to make your garment. All Conscious Clothing items are made with love, by hand, at our studio in Belmont, Michigan USA.
Not your style? Exchange for a new item or store credit within 10 days of receiving your shipment. At this time, we do not provide refunds to the original payment method.
Check out our size guide and measuring tutorials here or click here to contact us for sizing recommendations.
--
Garment Measurements
These are the measurements of the garment, laid flat and unstretched.
XSmall: Bust 38" / Length 23" / Bicep 16"
Small: Bust 40" / Length 23" / Bicep 16.5"
Medium: Bust 42" / Length 23" / Bicep 17"
Large: Bust 45" / Length 23" / Bicep 17.5"
XLarge: Bust 48" / Length 23" / Bicep 18"
XXLarge: Bust 51" / Length 24" / Bicep 18.5"
3X: Bust 55" / Length 25" / Bicep 19"
4X: Bust 59" / Length 25" / Bicep 20"
--
Model Measurements
Models are listed in order of appearance.
Audra's measurements are: Height 5'8" | Bust 36"| Waist 29" | Hip 38"
Brooke's measurements are: Height 5'9" | Bust 37"| Waist 30" | Hip 40"
Afton's measurements are: Height 5'8" | Bust 39"| Waist 31" | Hip 41"
Zahara's measurements are: Height 5'8" | Bust 54" | Waist 48" | Hip 59"
Deb's measurements are: Height 5'4" | Bust 40" | Waist 32" | Hip 41"
made with intention
Sustainably & ethically made in America.
We create sustainable clothing using eco-friendly materials and low-impact dyes. We care about the process as much as the end result and hope you love your Conscious Clothing piece as much as we loved making it.

Exchanges only / see our FAQ for our store policies.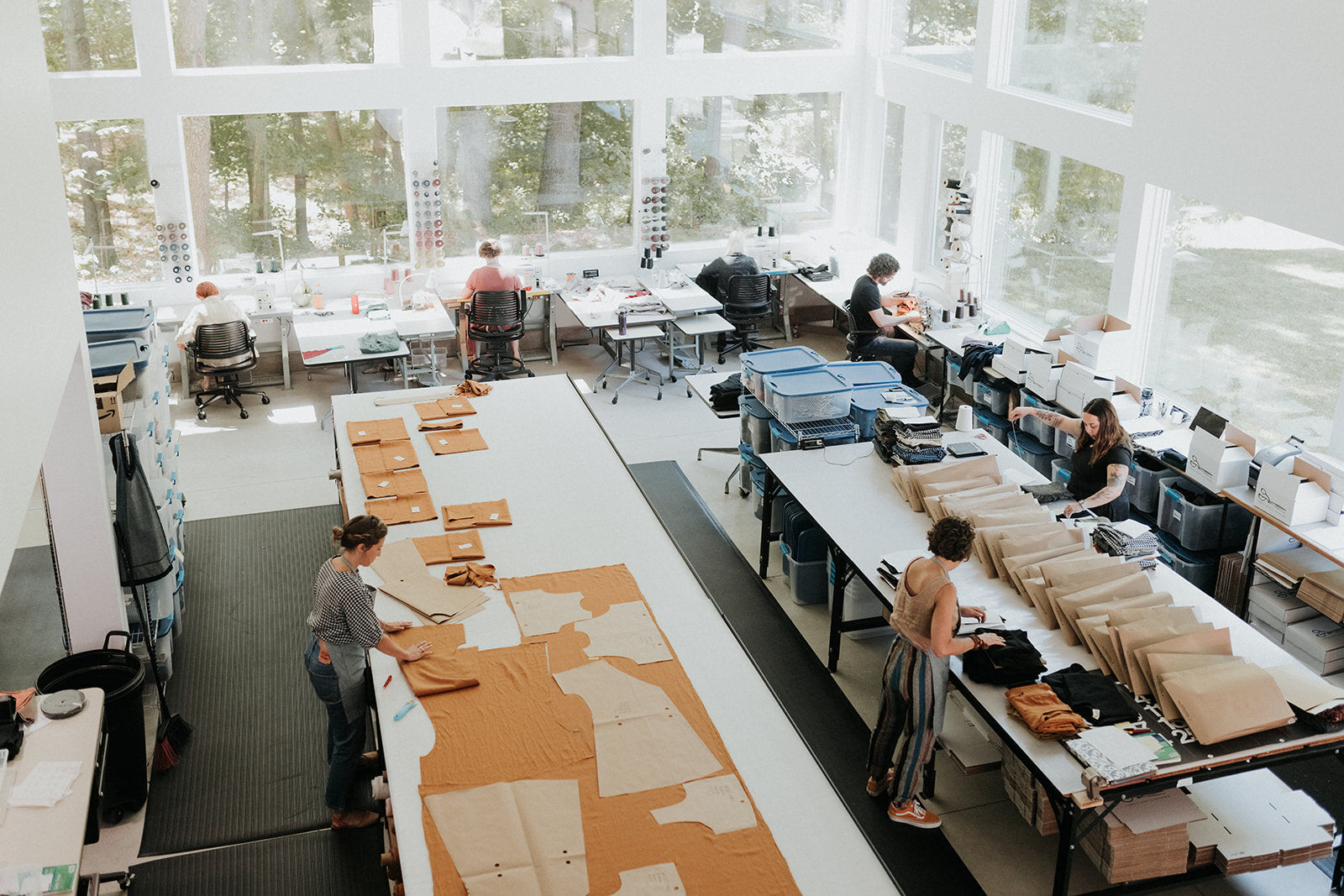 I loved this top so much I purchased in. Green and white- love how it fits and feels. So I purchased for gifts. And I love that the work is done in my state, Michigan, and supports our economy locally. Thank you.
My go-to errand-running pullover. I'm a sucker for layers, and the wide neck of this sweatshirt allows me the option of dressing up with a collar or down with a tee underneath. I'm 5'8" / 165lbs / Size M and the cut of this top is consistently flattering no matter what I pair with it or how I'm feeling that day. It's a great wardrobe staple!
I wasn't originally going to buy the Varsity Top, but I am so glad I did. This styles well with my linen weekend pants as well as jeans. It also looks cute tucked into an estuary skirt I made for myself. I am 5'10" and 185lbs with a C cup, and I ordered a Large. It fits well. My daughter borrows this top often. She is 5'8" and 215lbs with a DD cup.
I bought a large varsity top I went with large because I thought it would be longer torso. It was a longer torso but it also had a lower neckline. I love it and layer it with a tshirt underneath and wear it all the time.
This is probably my second fav purchase from CC. I wear it allll the time it's cozy and great for those days when a light layer is needed. Wish it came in every color imaginable, the crop fit is so flattering.