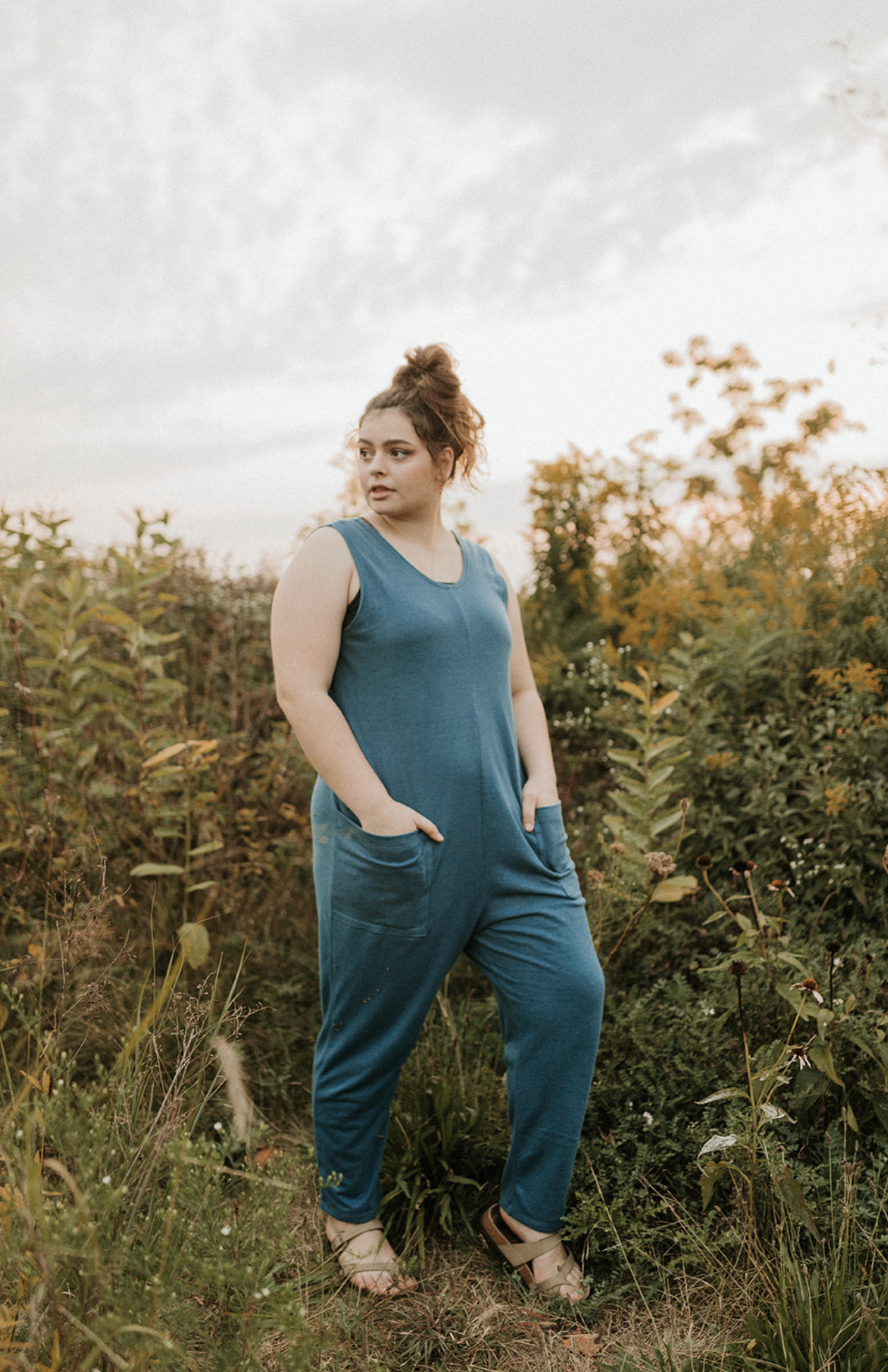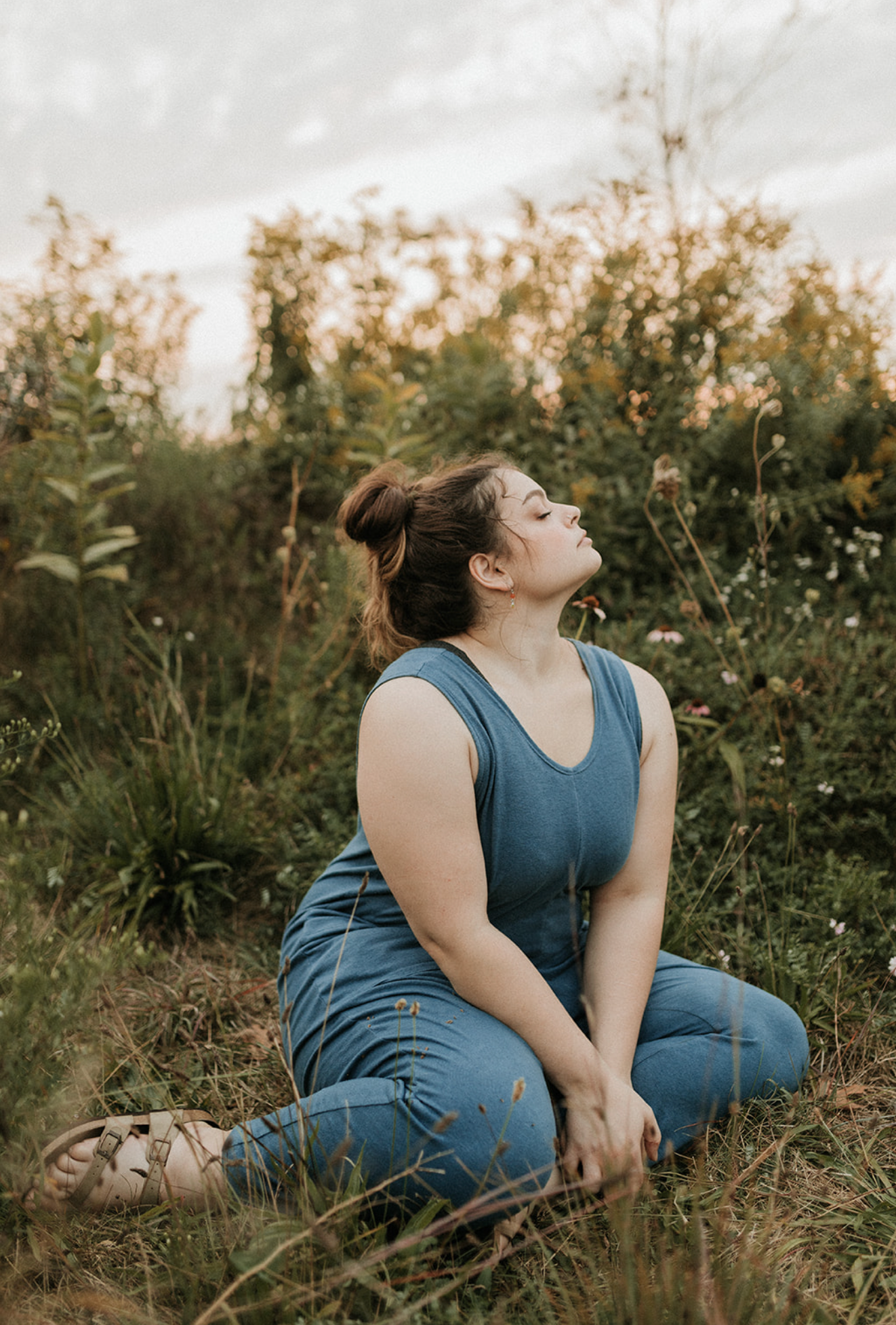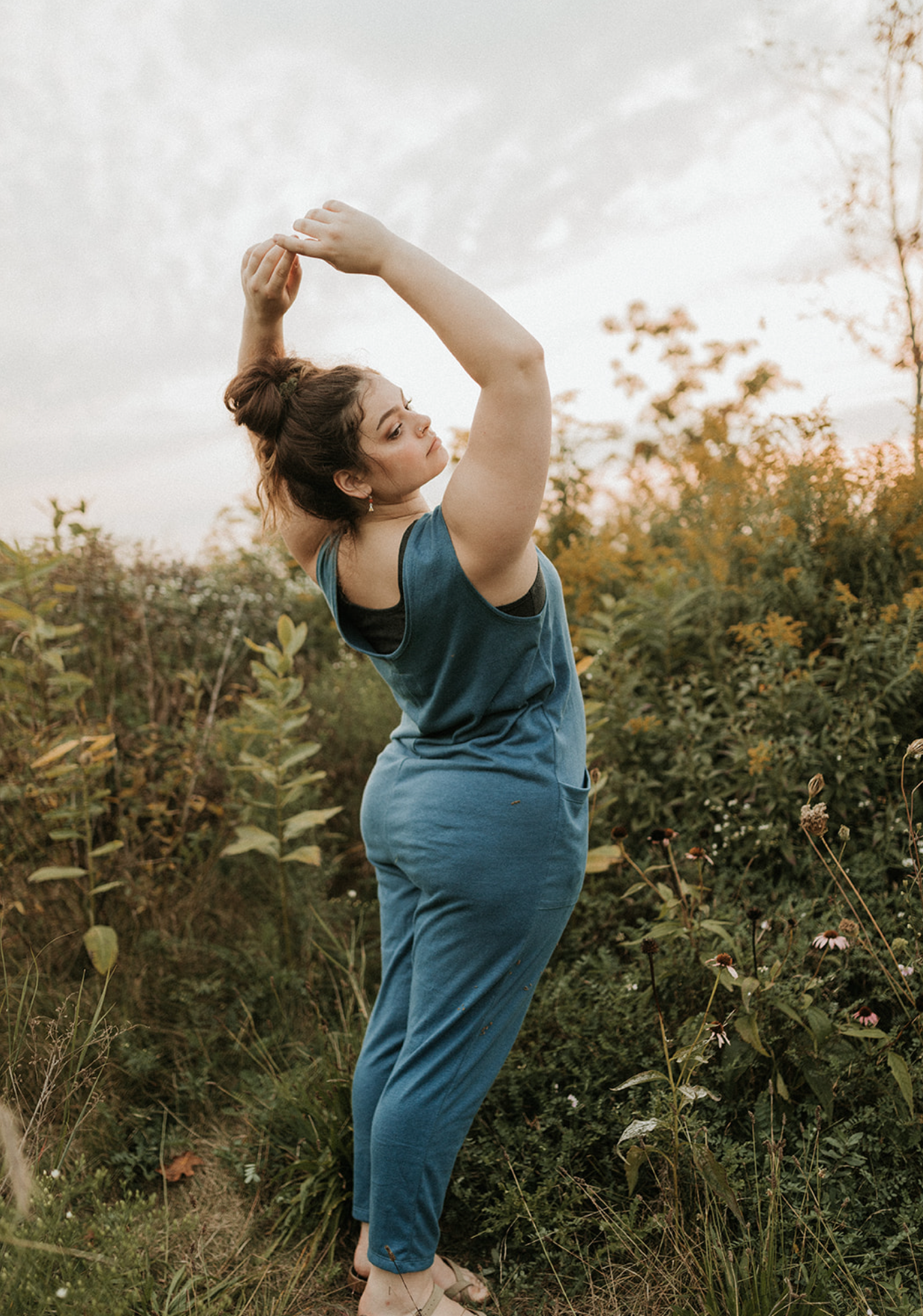 Important! Please check our Size Guide below before ordering.
The Berlin Bodysuit is made with Hemp + Organic Cotton. The comfortable fit, generous front pockets, simple scoop neckline, and tapered legs make it a flattering and stylish choice that can be dressed up or down, belted or layered. Please keep in mind that this fabric stretches and is more form fitting in the bust.
Model Size
The model is wearing size .
Sarah's measurements are: Height 5'7 | Bust 40"| Waist 35" | Hip 48"
Garment Measurements
All sizes have a 26" inseam.

XSmall: Bust 32" / Hip 37" / Torso 29"
Small: Bust 36" / Hip 40" / Torso 29"
Medium: Bust 38" / Hip 42" / Torso 29.5"
Large: Bust 40" / Hip 44" / Torso 30"
XLarge: Bust 42" / Hip 47" / Torso 30.5"
XXLarge: Bust 47" / Hip 50" / Torso 31"
Not Sure What Size?
Please contact us or check out our size guide
Please allow 3-5 weeks for us to make your garment. All Conscious Clothing items are made with love at our studio in Belmont, Michigan USA.
Not your style? Exchange for a new item or store credit within 10 days of receiving your shipment. At this time, we do not provide refunds to the original payment method.
55% Hemp / 45% Organic Cotton
Machine wash with cold water and lay flat to dry.
made with intention
Sustainably & ethically made in America.
We create sustainable clothing using eco-friendly materials and low-impact dyes. We care about the process as much as the end result and hope you love your Conscious Clothing piece as much as we loved making it.

Exchanges only / see our FAQ for our store policies.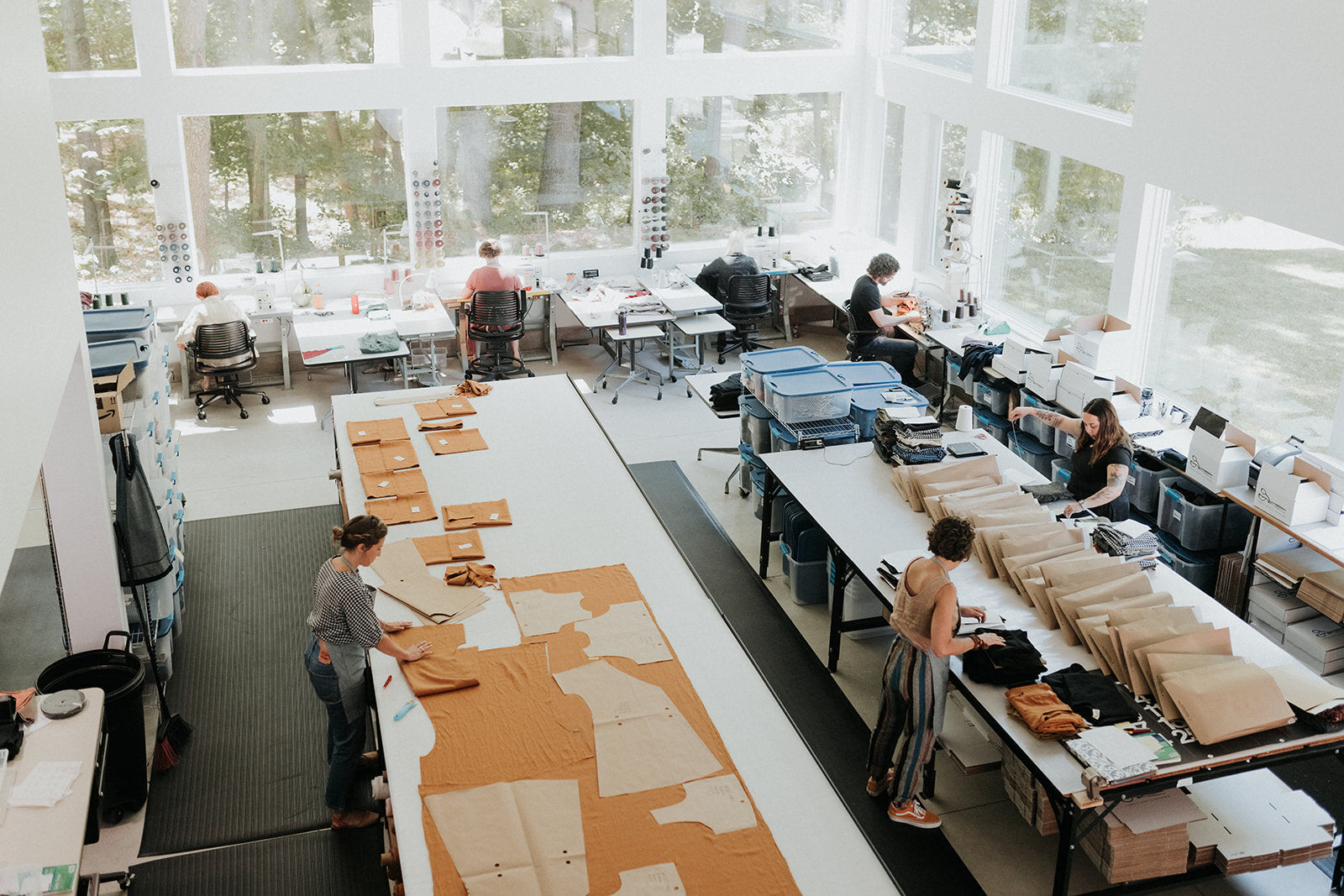 LOVE LOVE LOVE
I really love this jumpsuit! It is stretchy and has pockets. I'm 5'2", so I cuffed the ankles, and it still looks great
Great jumpsuit--get it while you can!
I'm sad this is being retired because it's wonderful. Previously, I had purchased the Berlin romper, made out of the same fabric, and I was glad to know how it would stretch when purchasing this piece. Based on my measurements, the Large should be my size, but I know that I prefer the fit of the Medium because this fabric does grow with wear. I'm 5'1", and I have the legs cuffed a couple times.
This is an extremely comfortable piece. I'm a 41 inch bust, but went with the large, which I was nervous about since the garment measurement listed it as 40 inches. I feel like the size is great with plenty of room and I wouldn't want it any larger. I have a little trouble keeping the cuffs rolled up, but it's a minor issue. I wish I could wear it every day without people noticing!
The pockets are where it's at on this! I got the medium and it's a great fit at 5'4", 160 lbs. It's a great day to day piece and you can layer with long sleeves underneath and nice cardigan on top.
This is THE jumpsuit. I was on the fence for a long time because I couldn't justify spending $175 for yet another jumpsuit that turned out to fit me weirdly...But it doesn't. I am 5'1 with a tummy and the medium feels so perfect and looks slimming. I love that the legs are fitted and not wide like nearly all jumpsuits I've seen. It is my new favorite piece of clothing and I may never change out of it.